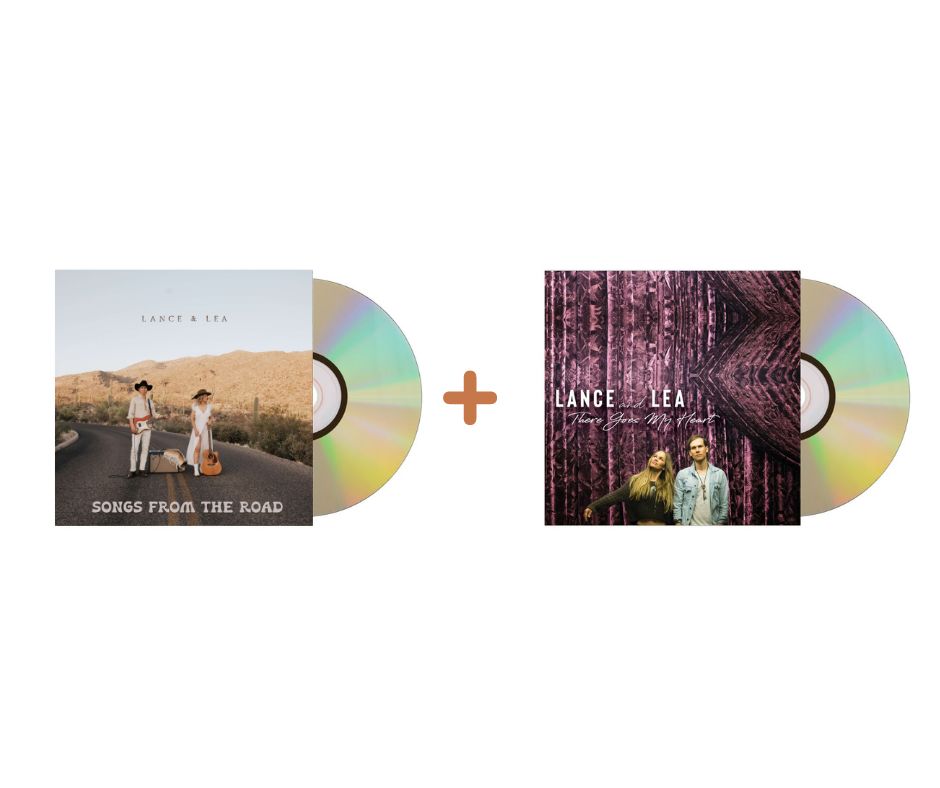 Add our other two albums - Songs From The Road and There Goes My Heart to your physical music collection now! 
Songs From The Road CD
In the Summer of 2021 we embarked on a four month long, 80 date tour all over the US in our vintage RV aka "The Honeybee." We traveled through 38 states and over 24,000 miles spreading love and live music.  It was truly the greatest adventure of our lives!  
This is a collection of songs that were written, recorded and inspired by the road.
Track listing:

1. Texas Tonight
2. Tumbleweed
3. Takes My Breath Away
4. 24,000 Miles
5. My Friend
6. Ego
7. Wildflower
8. Stormy Weather
9. So Far So Good


 Song preview below:
There Goes My Heart CD
The folk pop album with a rock and roll edge blends melodic harmonies
with heartfelt lyrics, acoustic instruments and at times prominent
electric guitars.  After writing over 300 songs together, this record
is a long time coming for us and one we are very excited and proud to
release!

The initial birth of this record started 6 years ago when we met and
wrote the song There Goes My Heart.  It would later find it's way into
the hands of Grammy Award Winning producer Paul Worley and become the
title track of this album.  The songs take you on a journey through
happiness and heartbreak and explore the feelings and emotions of love
and loss.


Track listing:

1. There Goes My Heart
2. Arizona
3. Rebel
4. What Does It Take (To Get You Alone)
5. Goodbye Colorado
6. Sideways
7. Got You In My Arms
8. The Hardest Thing
9. Rocking Chair
10. The Past
11. Living In Your Soul
12. When I Come Back Home

Song previews below:

We process orders daily! CDs are shipped from the USA.  North American orders should receive their orders within 7-10 business days.  Please allow 3-4 weeks for International deliveries.
Please contact info@thelanceandleashop.com if you have any questions or concerns.

We're very happy to help!

-Lance and Lea
Other 2 Albums
Description

Add our other two albums - Songs From The Road and There Goes My Heart to your physical music collection now! 

Songs From The Road CD

In the Summer of 2021 we embarked on a four month long, 80 date tour all over the US in our vintage RV aka "The Honeybee." We traveled through 38 states and over 24,000 miles spreading love and live music.  It was truly the greatest adventure of our lives!  

This is a collection of songs that were written, recorded and inspired by the road.

Track listing:


1. Texas Tonight
2. Tumbleweed
3. Takes My Breath Away
4. 24,000 Miles
5. My Friend
6. Ego
7. Wildflower
8. Stormy Weather
9. So Far So Good



 Song preview below:




 

There Goes My Heart CD

The folk pop album with a rock and roll edge blends melodic harmonies
with heartfelt lyrics, acoustic instruments and at times prominent
electric guitars.  After writing over 300 songs together, this record
is a long time coming for us and one we are very excited and proud to
release!

The initial birth of this record started 6 years ago when we met and
wrote the song There Goes My Heart.  It would later find it's way into
the hands of Grammy Award Winning producer Paul Worley and become the
title track of this album.  The songs take you on a journey through
happiness and heartbreak and explore the feelings and emotions of love
and loss.



Track listing:


1. There Goes My Heart
2. Arizona
3. Rebel
4. What Does It Take (To Get You Alone)
5. Goodbye Colorado
6. Sideways
7. Got You In My Arms
8. The Hardest Thing
9. Rocking Chair
10. The Past
11. Living In Your Soul
12. When I Come Back Home





Song previews below:


 




We process orders daily! CDs are shipped from the USA.  North American orders should receive their orders within 7-10 business days.  Please allow 3-4 weeks for International deliveries.

Please contact info@thelanceandleashop.com if you have any questions or concerns.


We're very happy to help!

-Lance and Lea